Bonjour les magiciens !!!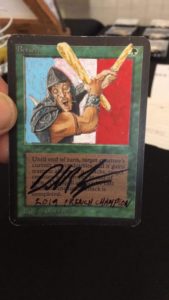 Une fois n'est pas coutume, voici un petit report du Championnat de France de OldSchool 2019.
Je sais, certains attendent toujours ceux de 2017 ET 2018…. Mais il faut se rendre à l'évidence malgré la saison : le père Noël n'existe pas 😉
Bon, comme je suis sympa, je vais tout de même annoncer que le champion 2017 est Alexis Catelain avec The Deck, et que le champion 2018 est… Alexis Catelain, toujours avec The Deck !! Continues..